The Most Surprising Celebrity Transformations of the Week
Another week at home, another week of transformations!
It's safe to say many of us at this point have been so bored that we've done something to change up our appearance, whether it's a haircut, dying our hair (much to our hairstylist who has spent years perfecting our tone's chagrin) or even just putting on a pair of jeans for the first time in weeks. 
Celebrities are also feeling that restfulness, with Chris Pratt finally letting his wife Katherine Schwarzenegger give  him at at-home haircut and another star shaving his beard for the first time in over seven years. Plus, Armie Hammer is already on makeover No. 2.
But it wasn't just people who were showing off changes this week, as one of Bravo's most popular reality series is undergoing a bit of a cast shake-up and the long-awaited debut of a beloved Broadway show changed its premiere, much to its fans' delight.
Here are the most surprising transformations in pop culture this week…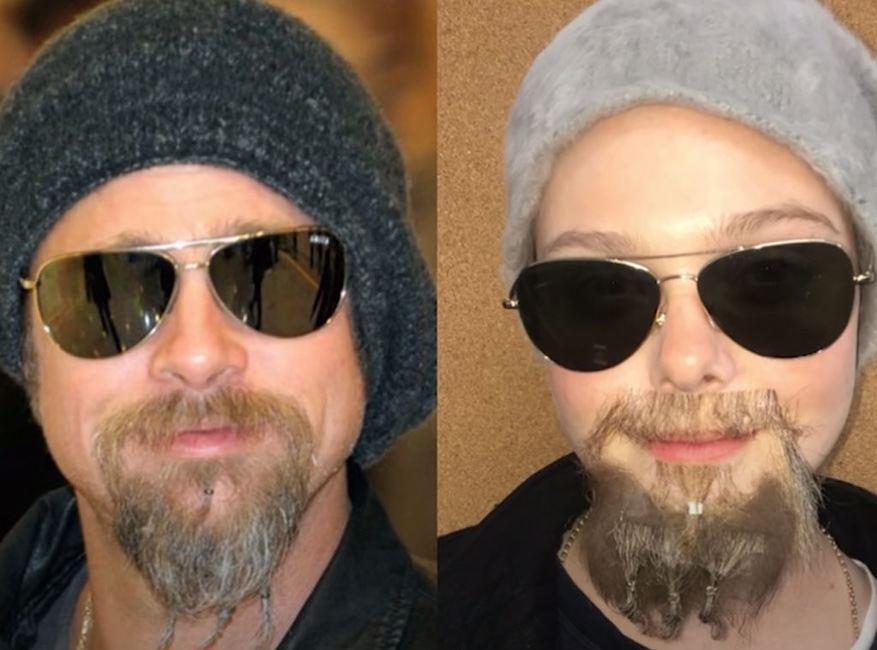 NBC
Elle Fanning

In truly one of the most delightful moments of the week, Fanning shared a photo of herself dressed up as Brad Pitt, channeling his famous "beard bead" during her virtual appearance on The Tonight Show Starring Jimmy Fallon. The 22-year-old star revealed her Pitt cos-play wasn't for a Halloween costume, but was for a challenge on the set of her new Hulu series, The Great.
"Basically we would do this on set, it was called the Doppelgänger Challenge and, like, the set of The Crown did it as well," she explained. "And our makeup designer did The Crown, so she was like—we were in competition with them and we totally won. We went all out, the cast. Like, we had this group chat, going dressed up as, like, celebrities, people from, you know, different characters in film."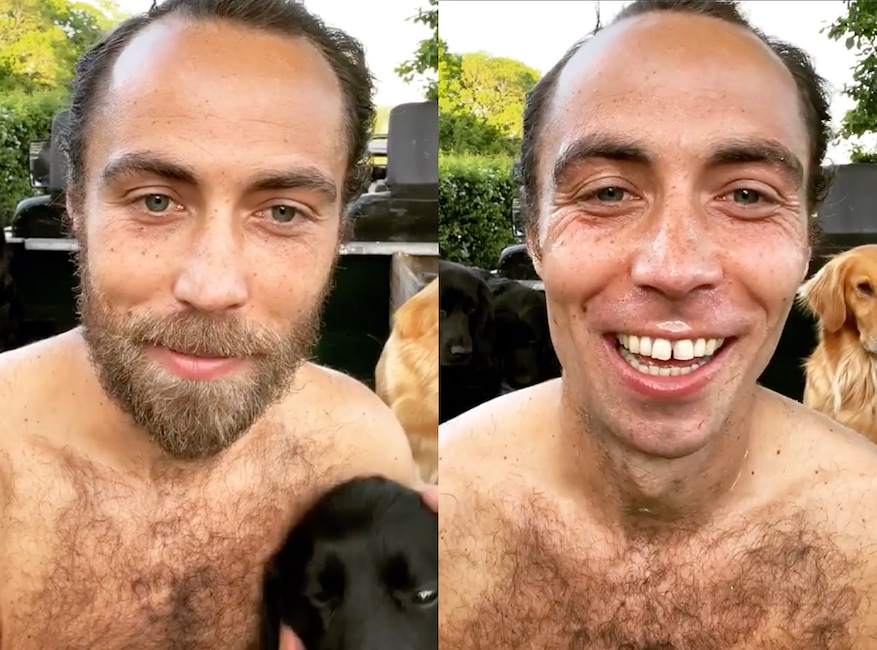 James Middleton/Instagram
James Middleton

Kate Middleton's brother shaved his beard for the first time in seven years, saying he wanted to surprise his fiancée Alizee Thevenet in a video showing him buzzing off his signature facial hair. 
"Seeing as Alizee and myself were due to get married, well, actually this month, she's never seen me without a beard," James said. "So I thought it was about time I showed her what was behind it."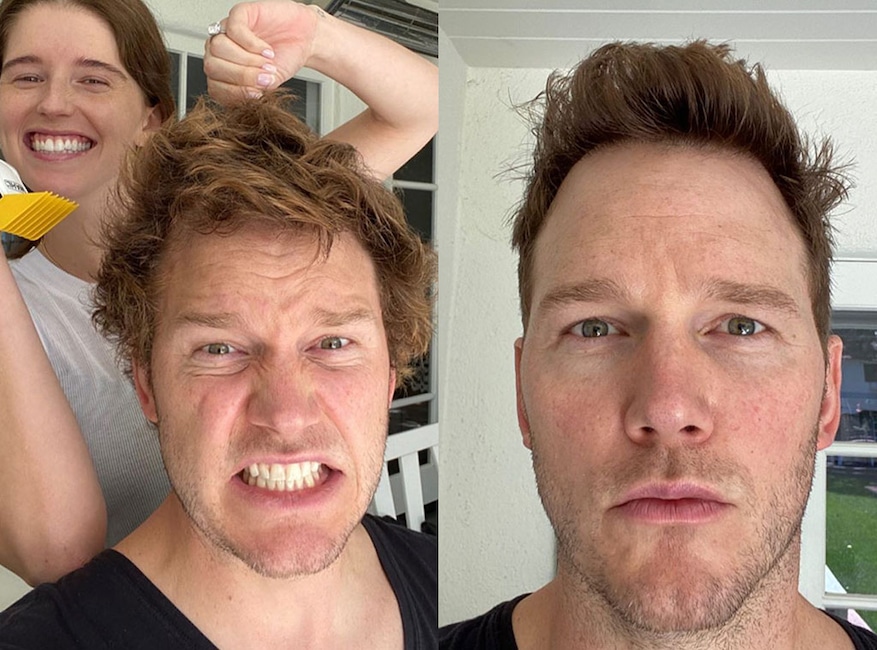 Chris Pratt/Instagram
Chris Pratt

Hm…maybe Katherine Schwarzenegger should consider adding barber to her resume?
"Here we go! Time to chop it off!" Pratt shared on his Instagram Stories, along with a selfie of him and Schwarzenegger, who was holding a pair of hair clippers and ready to tackle his long strands.
The Avengers star then showed off the final product in his next post.
"Must admit! Pretty damn good work by my wife @katherineschwarzenegger. Still feeling himself, he shared another selfie of himself to showing off his fresh cut, writing, "#quarantinehaircut."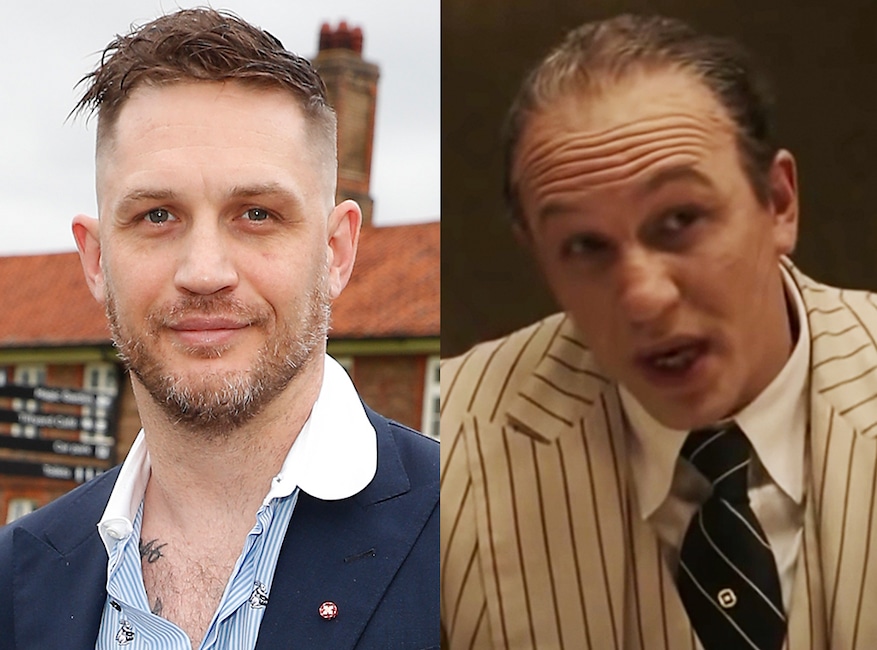 David M. Benett/Dave Benett/Getty Images for Audi, Vertical Entertainment
Tom Hardy

After seeing Hardy's makeunder to play notorious gangster Al Capone, there are only two options: 1. Clorox our memories or 2. Just watch Inception this weekend and remember the good times, darling.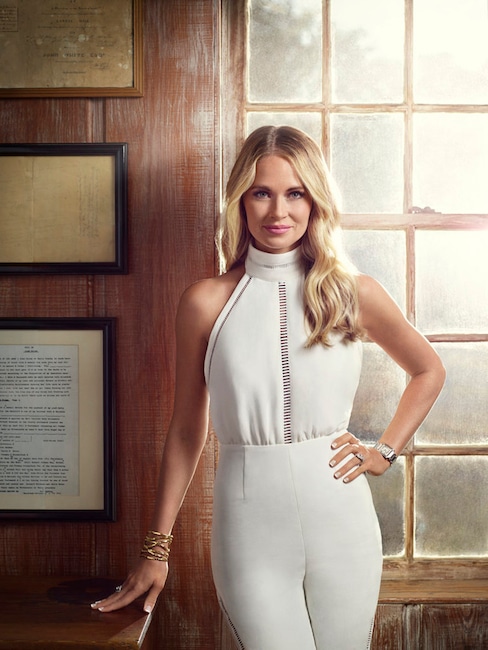 Bravo
Southern Charm

Y'all, Southern Charm is losing a lot of its charm.
The series' narrator and original cast member Cameran Eubanks revealed on Instagram that she is not returning to the Bravo hit, choosing to leave the show after six years.
Soon after news of Cam's exit broke, it was reported that Naomie Olindo and Chelsea Meissner were also leaving Southern Charm, meaning the show is losing almost all of its female leads.
Who is going to keep Charleston's Lost Boys in check now?!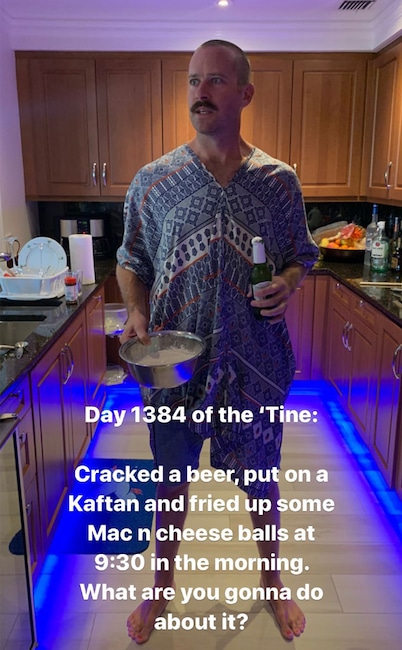 Instagram
Armie Hammer

First comes the mohawk, handlebar mustache and crop top, then comes the shaved head, beer and a kaftan. Anyone else slightly scared of what look is ahead in Hammer's next stage of social distancing makeovers?
Theo Wargo/Getty Images for Tony Awards Productions
Hamilton

Remember when we were all going to have to wait until October 2021 to see Hamilton in theaters? Well, Christmas came super, super, super early this year, as Disney+ has decided to release Lin-Manuel Miranda's beloved creation over a year early on July 3, 2020.
"I'm so proud of how beautifully Tommy Kail has brought 'Hamilton' to the screen. He's given everyone who watches this film the best seat in the house," Miranda said in a statement. "I'm so grateful to Disney and Disney+ for reimagining and moving up our release to July 4th weekend of this year, in light of the world turning upside down. I'm so grateful to all the fans who asked for this, and I'm so glad that we're able to make it happen. I'm so proud of this show. I can't wait for you to see it."
var fbstarttime = new Date(); !function(f,b,e,v,n,t,s) { if (f.fbq) return; n = f.fbq = function() { n.callMethod? n.callMethod.apply(n,arguments):n.queue.push(arguments) }; if (!f._fbq) f._fbq = n; n.push = n; n.loaded =! 0; n.version = '2.0'; n.queue = []; t = b.createElement(e); t.async =! 0; t.src = v; s = b.getElementsByTagName(e)[0]; s.parentNode.insertBefore(t, s); }(window, document, 'script', 'https://connect.facebook.net/en_US/fbevents.js');
fbq('init', '1611373942516879'); fbq('track', 'PageView');
var fbendtime = new Date();