England beaches gridlock caused by cars 'from all over country'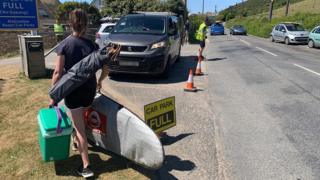 Beaches across England have been seeing high numbers of visitors apparently defying coronavirus concerns.
Cars from "all over the country" were in gridlock in Devon, police said.
In Cornwall, Perranporth beach had hundreds of people on it, while the warm weather also brought people out to Southend seafront in Essex.
In Merseyside, people visited Sefton's beaches despite pleas to stay away, and there was a reported 40-minute queue for a toilet in Skegness.
In Devon, Saunton Sands beach car park, near Braunton, was described as "looking like August", with nearby Woolacombe described as "a particular pinch point" for traffic.
Police warned motorists against abandoning cars elsewhere, saying they should follow advice to avoid becoming trapped on narrow lanes.
Public toilets and other amenities in the area remained closed, drivers were reminded.
In Sefton, footage filmed by a resident in Formby showed large numbers of cars parked on a residential road as people headed to the nearby beach, the Local Democracy Reporting Service said.
Sefton Council said its message was for people to stay away as spaces were unable to cope with a high level who could "put each other, our local communities and council staff at risk" of spreading and catching coronavirus.
And despite calls to keep people away from Lincolnshire's beaches, the sole open disabled toilet at Skegness saw a 40-minute-long queue.
One Devon police officer said the area's elderly population would be "very anxious over the selfish actions of these individuals".
Another officer said vehicles were parked on double yellow lines between Woolacombe and Mortehoe and cars mounted pavements "to get by whilst pedestrians try to cross the road".
They said all offences were being recorded and would "be processed in due course".
In Cornwall, an estimated 300 people were on Perranporth beach, with the main car park beside it full, and other vehicles parked along local roads. Cars were also reported lining roads near Gwithian, near Hayle.
Some Perranporth visitors told the BBC they were from Liverton in Devon, about 80 miles (130km) away; while others said they travelled from Plymouth, 55 miles (90km) away.
Tourism bosses in Cornwall and Devon were united in saying visitors should "stay away" as Covid-19 lockdown restrictions were eased in England.
Under the new guidelines, households are able to drive to other destinations in England, such as parks and beaches.
However, tourism body Visit Devon said people should restrict journeys "to no more than one hour and only visit our region for short day trips" as the county's rural communities "lacked the infrastructure and NHS facilities to be able to cope with an influx" of coronavirus cases.
Devon and Cornwall Police Commissioner Alison Hernandez said such travel was not illegal but people were being encouraged to "come back later, just not yet".