Coronavirus: Parents heed calls not to send children to school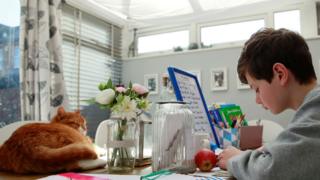 Parents appear to have heeded warnings not to send children into school unless it was a last resort, according to head teachers.
Schools in the UK have closed to reduce the spread of coronavirus – and are only open to look after the children of "key workers" and vulnerable children.
Heads' leader Geoff Barton said initial reports on Monday morning suggested pupil numbers were "manageable".
There had been fears too many would arrive for depleted teacher numbers.
But Mr Barton, leader of the ASCL head teachers' union, says: "Initial feedback indicates that parents have heeded calls to use the emergency provision in schools only in the event that they are key workers who have no option available to keep their children at home."
He says school staff are grateful to parents for responding to warnings and wherever possible keeping children at home.
It allays concerns that families would continue to send their children to school, rather than seeing it as a last back-up only to be used if "absolutely necessary".
Keeping schools open for the children of key workers – such as NHS, emergency or transport staff – was intended to prevent the closure of schools from stopping parents from getting to work and maintaining essential services.
But there were worries this could be interpreted too widely and schools with their own staffing challenges would be unable to cope.
Mary Bousted, general secretary of the National Education Union, had said there was a lack of clarity about which families were eligible to have their children looked after in school.
She said schools were having to "deal with numerous demands from parents".
Paul Whiteman, head of the National Association of Head Teachers, had said that even the children of key workers should try to find other alternatives to school.
"My appeal to the families of key workers is: This is not business as usual keep your family at home if at all possible.
"Leave the few spaces available for those that truly have no alternative."
The first morning of a new type of school
For those children at home, schools have been putting lessons and coursework online, so that pupils can keep up with their studies.
At Hampton Hill Junior School in Richmond, London, staff had emergency training sessions on Friday in how to use an online learning system and all children were issued with a log-in so they can access work from home.
"We'll be remotely available to answer any questions," Tracey Bannister, the school's special educational needs co-ordinator, told the BBC.
Ms Bannister said the mood in school, which is open for key workers' children and vulnerable children, is sombre.
"I think it's a very different mood this morning," she said.
"In the staff meeting, we all sat further apart – there is definitely a different mood and maybe trepidation."
Pradeep Shetty, a carer whose daughter is eligible to attend school, says the current situation is difficult for everyone – for those who will be at home and those still coming to school.
Mr Shetty says those children who are in will soon find it is very different from a regular school day.
"It's hard for them to take as well – it's not a normal thing, just to be here without their friends."
Who are "key workers"?
The full list includes:
Frontline health workers such as doctors and nurses
Some teachers and social workers
Workers in key public services including those essential to the justice system, religious staff and public service journalists
Local and national government workers deemed crucial to delivering essential public services
Workers involved in food production processing, distribution, sale and delivery
Public safety workers including police, armed forces personnel, firefighters and prison staff
Essential air, water, road and rail transport workers
Utilities, communication and financial services staff, including postal workers and waste disposal workers
Read more: Whose children will still be able to go to school?
Education Secretary Gavin Williamson said schools were only open for the few, not the many.
"If your work is not critical in the response to Coronavirus then please keep your child at home."
He said government was assessing how it could support schools.
"We will be closely monitoring what is happening in schools and will ensure they get the support they need in the weeks and months ahead."