Coronavirus: London congestion charge brought back with price rise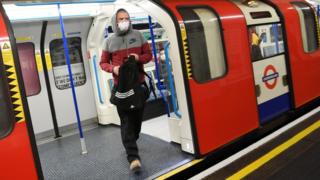 The congestion charge for people driving into central London will be reintroduced on Monday under the terms of a £1.6bn government bailout.
It follows a deal in which Transport for London (TfL) secured emergency funding to keep Tube and bus services going until September.
From 22 June, the congestion charge will also rise from £11.50 to £15
Changes will happen "as soon as practicable", the Department for Transport said.
TfL said the congestion charge would be reinstated in London on Monday and would run between 07:00 and 22:00, seven days a week.
Mayor of London Mayor Sadiq Khan said the measures were designed to avoid a build up of traffic after the government urged people returning to work to avoid public transport.
The low emission zone and ultra low emission zone – imposing levies on high-polluting vehicles – also comes back into operation on Monday.
Restrictions on travel passes for people with a disability or over the age of 60 travelling will also be imposed during peak hours.
Fares on buses – scrapped to help protect drivers from Covid-19 – will also be reintroduced.
Mayor of London Sadiq Khan said the deal was necessary because coronavirus had had a "catastrophic impact on TfL's finances".
"I want to be completely honest and upfront with Londoners," Mr Khan said.
"This is not the deal I wanted.
"But it was the only deal the government put on the table and I had no choice but to accept it to keep the Tubes and buses running."
TfL had said it would have been forced to issue a Section 114 notice – the equivalent of a public body going bust – if no deal had been reached by the end of the day.