Ahmaud Arbery: Third man charged over death of black jogger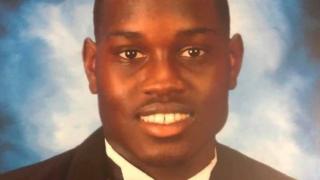 A man who filmed the fatal shooting of an unarmed black man in the US state of Georgia has been charged with murder.
William Bryan Jr was also charged with criminal attempt to commit false imprisonment on Thursday, said the Georgia Bureau of Investigations.
Ahmaud Arbery, 25, was jogging when he was shot dead during a confrontation with a father and son in Brunswick on the afternoon of 23 February.
Gregory McMichael, 64, and son Travis, 34, were charged with murder on 7 May.
In the moments before the fatal confrontation, the McMichaels, who are white, armed themselves with a pistol and shotgun and pursued Mr Arbery in a pickup truck in the Satilla Shores neighbourhood.
Gregory McMichael told police he believed that Mr Arbery resembled the suspect in a series of local break-ins.
Mr Bryan's 36-second video leaked online on 5 May, generating nationwide outcry that was swiftly followed by murder charges. It was filmed by Mr Bryan from his vehicle while he was driving behind Mr Arbery.
The clip appears to show Mr Arbery running down a tree-lined street as the McMichaels wait ahead for him in their vehicle.
A tussle follows and the younger Mr McMichael appears to fire a gun at point blank range at Mr Arbery, who falls to the street.
Lawyers for the Arbery family had called for Mr Bryan to be charged because they argued he had participated in the chase and "corralled" Mr Arbery.